e-Bikery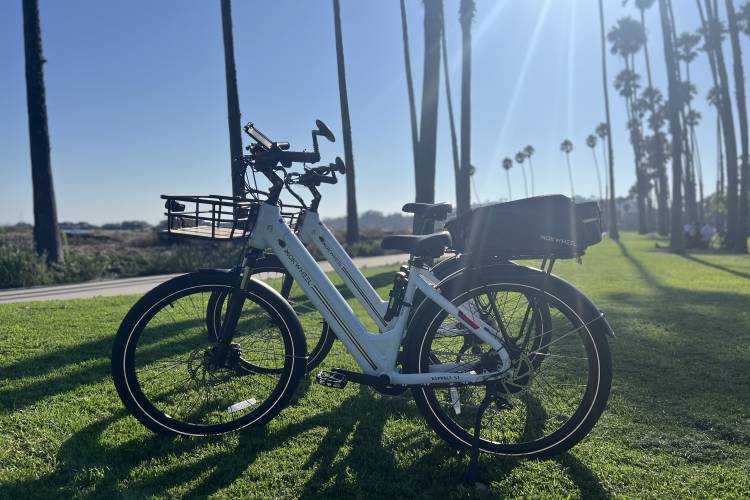 Discover Santa Barbara's Beauty on Two Wheels with e-Bikery - Exclusive for Wanderlust Guests!
At Wanderlust Luxury Rentals, we believe that exploring Santa Barbara should be an unforgettable adventure, and that's why we've partnered with e-Bikery, your local one-stop shop for all things electric biking.
As a local, family-owned bike shop, e-Bikery is deeply committed to enhancing your Santa Barbara experience. They specialize in offering top-quality electric bicycles (e-bikes), accessories, and services. With a multi-brand and multi-technology approach, they strive to match you with the perfect e-bike, whether it's for zipping around the city or embarking on thrilling adventures.
Exclusive Benefits for Wanderlust Guests
Wanderlust guests enjoy an exclusive discount when renting e-bikes and accessories from e-Bikery. Plus, to make your experience seamless and convenient, e-Bikery offers free delivery of your e-bikes directly to your vacation rental. No need to worry about logistics; step out of your rental and into your electric adventure!

Experience Santa Barbara the E-Bike Way 
With e-Bikery, you can explore Santa Barbara's attractions effortlessly. Cruise through the city without worrying about hills, easily navigate traffic and discover the mountains' trails without breaking a sweat. Enjoy the ocean breeze without the hassles of parking or terrain challenges.
Discover Top Brands: e-Bikery showcases a range of new e-bikes and accessories, catering to various needs. From city commutes to off-road and e-mountain biking, they carry top brands like Yamaha, Gazelle, Mondraker, Urban Arrow, Surface 604, Stromer, Magnum, Aventon, and Mokwheel.
Family Adventures: If you're traveling with kids, e-Bikery recommends the Aventon Abound, designed for safe and comfortable rides with up to two kids on the back. Plus, all their e-bike rentals come equipped with convenient extras like cup holders, phone holders, mirrors, baskets, and rear racks.
Professional Support: The e-Bikery team boasts professional mechanics who are always ready to assist, whether you have a flat tire or need an advanced tune-up. They provide service and repairs for all bicycles and e-bikes, ensuring your ride is always in excellent condition.
Your One-Stop E-Bike Destination: Whether you're looking to buy, rent, service, or accessorize your e-bike, e-Bikery is your go-to destination in Santa Barbara.
Discover the joy of electric biking with e-Bikery and enhance your Santa Barbara adventure. Visit them today and experience firsthand how an electric bike can transform your exploration of this beautiful city. Contact them today to reserve your bikes. Your journey through Santa Barbara just got electrifying!